Uber & Lyft Accidents Lawyer
Have you been injured in an Uber, Lyft, or other rideshare accident in California?
Whether you were an Uber/Lyft driver, passenger, third party driver or pedestrian who was hit by an Uber/Lyft, we are here to help.
Nabi Law serve drivers and passengers who have been injured in an Uber accident. Before speaking with an insurance adjuster, call us now at —–to learn about your legal rights in a free consultation. Don't let Uber or Lyft Deny you a settlement instead, let us fight to get you the max compensation you deserve.
What Uber/Lyft Passengers need to know:
Uber insurance covers all passengers up to $1 million liability and $1million uninsured/underinsured. If you have been injured in an Uber vehicle, then you are entitled to compensation. Of course, the insurance company may try to make a deliberately low offer, which is why you should consult with a trusted Uber accident attorney to ensure that you recover the full amount of your damages, both current and ongoing.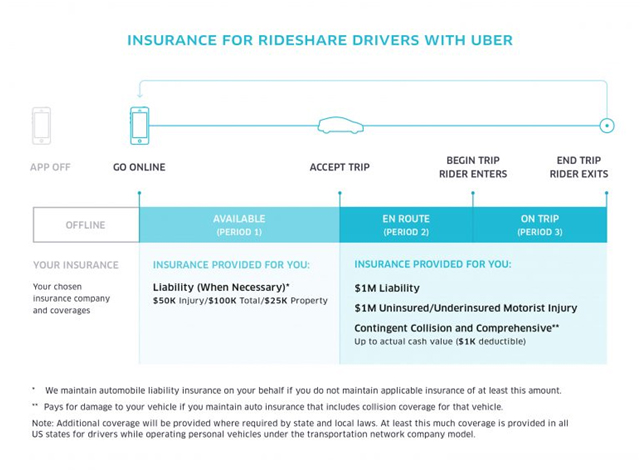 The first period is when the app is on and you are waiting for a ride request. Uber/Lyft Provides only liability coverage in this period. You must purchase supplemental rideshare insurance to receive other types of coverage or else you will have a "gap" in your coverage.
Period 1: During this period, Uber/Lyft provides liability insurance with insurance limits of 50/100/25 and nothing else. This is contingent coverage in most states, barring a few exceptions, such as California and Maine. Contingent coverage means this coverage is offered only after your personal insurance denies coverage.
Collision and comprehensive: Uber/Lyft's policy make these types of coverage nonexistent during period 1. In case of an accident, you will need to pursue compensation from the at-fault driver, or from your own personal insurance policy. Be careful: many insurance companies require you to get separate rideshare insurance for damages that occur while you're on the job.
Uninsured/underinsured motorist: Same with UM/UIM, Uber does not offer these types of coverage during period 1. You will need to use your own personal insurance policy if the at-fault driver has inadequate insurance or none at all.
The second and third period
The second period begins when you accept a ride request and are on your way to pick up a passenger.
The third period starts the moment a passenger enters your vehicle and ends when you drop them off at their destination.
Liability: The coverage amount is $1 million of total coverage for bodily injury.
Collision and comprehensive: Uber/Lyft makes this type of coverage contingent during periods 2 and 3, which means your personal insurance must deny you these types of coverage before Uber/Lyft steps in and offers them to you.
Uninsured/underinsured motorist: Like with liability, Uber/Lyft Provides up to $1 million in UM/UIM coverage for drivers during periods 2 and 3.
Take note: even if your accident occurs during the second period, which would make you qualified for full coverage, Uber/Lyft Maymay try to take advantage of the fact that there are no witnesses and claim that you did not accept a ride request prior to the accident. Therefore, it is highly advised that you take a screenshot of your app after an accident for the sake of proof.